Busy December Activities:
December is always busy with plenty of activities, isn't it?! There is much to report of how good God is in the midst of everyday living.  We handled a few administrative activities like finishing the application to Go Ministries so we can provide tax deductible receipts for ministry donations (yay), and residency application activities (please pray for these to be finalized).
Of course every week we prepare for the Sunday service.  Mike preps the message and I prep the worship music.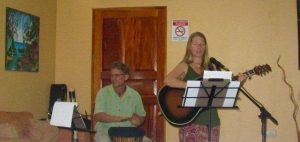 We go visiting people we're building relationships with – like Cacao and his wife Amelie, who make the coconut shell and silver jewelry, and Bruce and Lynn Blessing, who've lived here for 3+ years and are from the States.  Bruce plays guitar and sings at a local restaurant.  So we invited him to help us sing Christmas songs for the Sunday before Christmas service.  That was fun!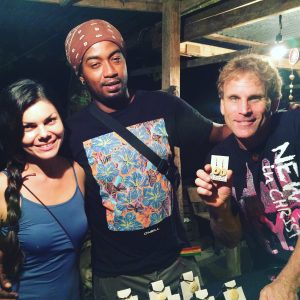 Visit To A Nursing Home
A highlight of our month was joining Pastor Roger of Central Christian Church of Cocles (a Spanish speaking congregation), and Pastor Enrique and his wife Carol from a mission in Heredia, Costa Rica, to visit a nursing home in the small village of Bratsi, aka "Bambu", about 45 minutes away from us.  The Home is called "Al Hogar de Ancianos Santa Luisa"  So on December 15th we traveled out to join in on their Christmas party.
The road there is gravel, once you've passed Bri Bri, and we had to drive through a rushing creek…oh what fun…and to see the smiles on the faces of the nursing home residents made it all worth it.
We were asked to play music, so we sang Christmas carols and a few worship songs (even in english, they loved it).  We prayed with them and danced with them and just had a wonderful time watching them have a wonderful time.  🙂
What Did We Do For Christmas?
Our photographer (me, aka Chaunda) seemed absent minded because she didn't take any photos of our Christmas Potluck or our Sunday services!  LOL
We sang Christmas carols for worship both Sunday the 18th and 25th.  I love those songs, because they're so full of the message of the birth of our Savior and full of praise!
We held a potluck at the church on Christmas Eve.
Michael preached from Luke 2 and shared that even while December 25th is not the real birthday of our Lord (there are excellent arguments for the possibility that he was born in any of the 12 months of the year), the reason we celebrate is the fact that he was indeed born, and we have historical records of this fact!  Halleluyah!
Service on Sunday, Dec. 25th – Christmas Day
It seemed popular for churches everywhere to take this particular Sunday off.  We prayed about that, and decided we would have service as normal.
Because we held service on Christmas Day, we were able to be a blessing to holiday tourists.  We had a family from the UK come to our service because they saw our flyer next to the community dumpster!  We had a couple from Utah (who attend a calvary chapel there) join us after seeing our road sign, and another gal from Tennessee joined us after asking around if there was an english speaking church.  She also found us because of the road sign!
Something Sad to Report
Our dear friend, and owner of the resort where we hold the church services at, lost his battle with cancer on December 23rd.
We met Don (Mr.) Julio Garcia by phone in late July of this year.  He offered the meeting room of his resort hotel Villas del Caribe to us, thrilled with the fact we had come to start a church in this area.  We met face to face in August.  At that visit, (to his home in San Jose), he and his wife Lavinia shared with us that they had been praying for an English speaking church to be started in Cocles/Puerto Viejo.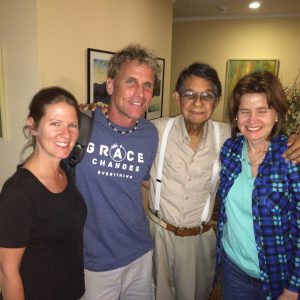 Chaunda, Michael, Julio, Lavinia
During our visit in September, Michael was able to pray for Don Julio, specifically for healing.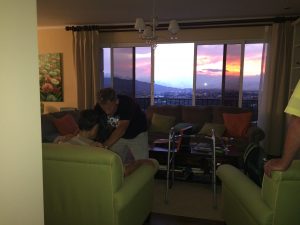 Two weeks after this prayer, Julio shared that his energy had increased, he was gaining weight, and even took a helicopter ride from San Jose to Cocles, to visit his resort staff and friends in the area he loves so much.  He seemed on the road to recovery.
We were able to visit Mr. Julio two more times – once in late September, and once in November.  During all our visits, our hearts were knit together with the common vision – seeing the advancement of the Kingdom of God.
Michael had shared his vision of a worship center, complete with children's outreach, a women's shelter, a bible/ministry training school, and a children's' school – in Cocles, perhaps even transforming the Villas del Caribe resort into this worship center facility.  Don Julio pumped his fists into the air saying "yes, yes, yes".  Lavinia wiped tears away from her eyes and said they have been praying for this very thing – for years!  And that actually, long ago this vision was something they had on their hearts to do.  That blew us away!
We did notice, however, on that last visit that Don Juilo was quite tired and retired to his bedroom early, unaware at the time that this would be the last time we would see him this side of heaven.
Peace fills Lavinias' heart now, because she knows her husband has gone ahead of her and is with Jesus.  Their sons are also at peace, thankful that their father is no longer suffering.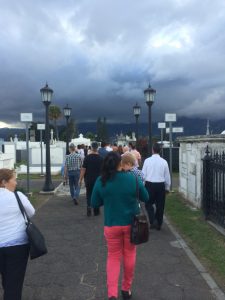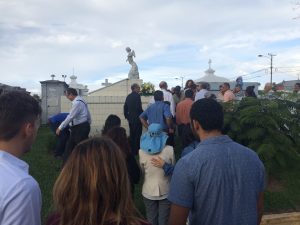 We attended the funeral in San Jose and accompanied the family and friends to the cemetery.  This being our first funeral in Costa Rica, it was good to see what the customs are for Costa Ricans.  The message of the funeral – Jesus was lifted up and glorified in all Don Julio Garcia did with his life!
I will close this blogpost now, because there are a few stories left to tell and they deserve their own blogposts…
HalleluYah!  God is Good!  🙂