Much of missionary work is about making connections and building relationships.  This past week, we made some "interesting connections" and enjoyed deepening other friendships.
The Translator
While on our trip to San Jose to attend the funeral of Don Julio Garcia, we stopped off at the US Embassy to turn in some paperwork.  Next we needed some office supplies, so we typed "Office Depot" into Waze (the most fabulous navigation App that has made driving in Costa Rica a possibility for us) and the app led us to the "closest" Office Depot…in an area of town called Escazu.  We don't normally head in this direction, but there was a certain man God apparently wanted us to meet and he was "at the right place at the right time" at that particular store so that we could meet.
His name is Fernando.  He is a retired entrepreneur who spends all his time serving the one he loves…Jesus!  He is quite the evangelist, with a flair for marketing (hence being at the office depot to print a flyer for an event with his church) and he is a translator.  Actually, he introduced himself as a translator.
AND it "just so happened" that we had a conversation with a missionary from another part of Costa Rica just the day before, in which he advised Michael to get a translator for Living Water Calvary Chapel.  In fact, we've been praying for a Spanish speaking co-laborer to join us in this ministry.
There was an immediate connection – the kind when you just "know" God is involved in the meeting.  And to "put the cherry on top" so to speak, when we walked outside and saw what kind of car he was driving…it was the same exact model and year as our car.  Just the color is different.  Funny coincidence?  You decide!
The next day, Fernando called to say his wife is very interested to help teach us Spanish.  She is an English teacher.  They live in San Jose, so we'll see how the Lord works this all out.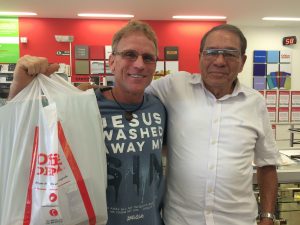 The Police
Driving in Costa Rica can get a bit crazy and it doesn't even seem to matter how good a driver you are, accidents happen.  Michael has never had an accident before in his life.  However, within about a 1/2 hour after meeting Fernando, we had a little incident with another car after exiting the freeway.  Our car "barely" touched another car at a turning stop.  Actually, we had nearly missed being hit by another car that was speeding by.  I felt the enemy was trying to create a problem.  Turned out my "intuition" was correct.  There was barely a smudge on the other driver's car, and no damage to our car at all – not even a scratch.  We really even wondered if our cars connected.  In any case, the other driver was nice…at first.  But once the other driver heard Michael is a pastor…the guy "went off" on us!  He started mouthing off, insulting us and all foreigners, and to top it all off, said "I bet you even voted for Trump"!  So there you have it – the election rage has come to Costa Rica.
In any case, we had to wait for the insurance guy to arrive, and also the police.  The police told us the other driver wanted to fight Michael! They said he was crazy.  We understood.  The end result is that, through our insurance company, everything should be taken care of, not a big deal.  On the off-chance the other driver actually files a complaint against us at the police department, there could be a legal case – involving court.  But that would take years, the police officer said.  Hum.  Please pray this guy just drops his anger and lets the incident go away.  The insurance person and the police were very polite and spoke english enough that we had the issue taken care of.
New Years Eve
Happy New Year!  Our dear friends, Leonel and Georgina Pacheco – whom we first met back in April of 2014 on our first trip to Costa Rica – came over from San Jose to Punta Uva (next town over from us) for the weekend.  We spent New Years Eve with them at their family farm, enjoying dinner and great fellowship.  What a blessing this family is to us.  This is the couple who welcomed us into their home for our first week in Costa Rica back in July, and then Leo accompanied us for the next week here in Puerto Viejo/Cocles/Punta Uva so we could get established.  Please say a prayer for them as they serve the Lord with their lives in many ways.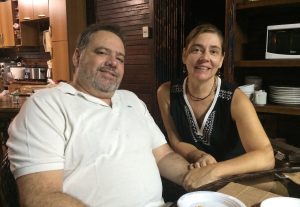 Happy New Year!!!