The Next Week
If you read the previous post, then this title, "Then, The Phone Rang At 12:30 pm" will make more sense.
Michael and I have begun pursuing unity of the regional pastors and believers by attending an early morning prayer meeting every Friday of a Spanish speaking church right around the corner from where we live, called Central Christian Church.
On January 27th, the enemy tried to prevent the prayer meeting from happening by attacking the physical body of their pastor, Roger.  He was healed, however, and the prayer meeting went on!
On the next Friday, February 3rd, after another powerful prayer meeting, Pastor Roger invited us to do a "prayer tour" in the afternoon at 1 pm. However, at 12:30 pm we received a phone call to cancel the prayer tour because Pastor Roger was not feeling well…again! Hum…put two and two together. A powerful prayer meeting is set to happen, and for the second time in a row, Pastor Roger has a health issue. Clearly, the enemy does not want us to pray! Needless to say, we just simply went over to meet him, prayed, rebuked the spiritual attack, and went on with the powerful prayer tour!
The battle to plant the church "Living Water Calvary Chapel" and the battle to unite the pastors in this region; Puerto Viejo, Cocles, Playa Chiquita and Manzanillo continues!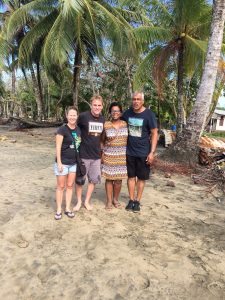 L to R, Chaunda, Michael, Hilda, Roger